Two-Face is one of Batman's enemies and a gang leader. He uses a variety of weapons, usually two of each, making him a dangerous villain at first. He has a coin that he flips in order to decide whether his victims should live or not.
Character Description
Edit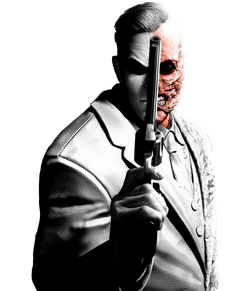 Harvey Dent was Gotham City's heroic and kind-hearted district-attorney and one of Batman's strongest allies until Sal "Boss" Maroni threw acid in his face, hideously scarring him. It also fractured his mental state, causing him to become Two-Face, a schizoid criminal-mastermind obsessed with the number two. His former good luck charm, a "two-headed" silver dollar, was damaged on one side during the attack that ruined half his face, and Dent has seized on it as a reflection of his half-scarred visage. He flips it to decide the fates of his victims. Despite Batman's efforts to reform his former ally, Dent is consumed by his fixation on chance and his crimes are designed to prove out his diametric philosophy.

TWO-FACE
"A ruthless gang lord obsessed with duality, Harvey Dent, or Two-Face due to the left side of his face being completely scarred, won't stop anyone getting in the way of him and his crimes. He will use whatever he thinks is necessary, from pistols to machine guns and even rocket launchers. He is a force to be reckoned with."
In Super Smash Bros IV
Edit
Two-Face makes his first appearance as a playable character in Super Smash Bros. IV. Considering his nature, he has a wide array of guns and weaponry he uses in his moveset, both range and melee, making him an all-rounded character.
Attributes
Edit
Two-Face is an all-rounded character. He uses weapons such as knives for melee fighting and ranged weapons such as guns for when his opponents are far away. He has a variety of attacks so he is a good choice for beginners.
Neutral:
Forward:
Up:
Down:
Dash Attack:
Forward Smash:
Up Smash:
Down Smash:
Air:
Forward Air:
Back Air:
Up Air
Down Air:
Grab Pummel:
Forward Throw:
Back Throw:
Up Throw:
Down Throw:
Floor (Back):
Floor (Front):
Floor (Trip):
Edge (<100%):
Edge (100%+):
Neutral Special:
Side Special:
Up Special:
Down Special:
Final Smash:
TBA
On-Screen Appearance
Edit
TBA
TBA
Victory Poses
Edit
TBA
Event Matches
Edit
Event TBA: Prison Break: Defeat Scarecrow, Two-Face and The Joker as Batman on the Arkham City Stage.
Event 30: Newcomers!: Defeat the newcomers to the series.
Role int Story Mode
Edit
TBA
TBA
Trophies
Edit
TBA